… and how do you ask a stone?

Since the end of 2017 the post office of Doohoma is closed. This is sad for the Seedbank of Love & Stories, because unfortunately it has no room there anymore. I think of Doris, Ann and Joseph, who cared for the project in Doohoma and I am very grateful for their time and energy. At the same
time, I'm working to bring the Seedbank of Love & Stories to Munich. In other words, I am trying to find out how a local project (a project which is connected to a certain place) can become a freetraveling project. And I ask myself:
How can the "stories" work independently of language?

How can it be more intuitive to exchange a "story"?

And how can we take Ireland as the birthplace of the Seedbank with us, when the project goes into the world?
In Ireland, even the stones tell stories …
… that's the slogan on an Ireland website. Reading it, I think "cool, we take stones into the project. Every story gets a stone. And with a stone at its side, a 'story' can be even easier than before. A word. A sign. Language is not so important anymore. And if I take the first stones directly from Ireland, the place is already automatically included – and for the balance I can offer for the Irish stones stones from Munich for exchange. "So far my thoughts – and I realize I have great desire to collect stones, to hold them my hand – and to swap them. And I start collecting stones in Munich.
But then ….
A Siberian shaman once assured an ethnologist that a stone taken away and put somewhere else needs 15 years to calm down.
The german newspaper 'taz' of my neighbours happens to be in our hallway …. and this text jumps to me. "Great," I think. "Now you've really landed it the soup!"
15 YEARS TO CALM DOWN !!!
I look at the stones that I have already collected in Munich for the exchange for Ireland. Like little animals, some of them are lying on my kitchen table. Colorful. Much more colorful than I remember from the Isar river. And I ask myself, "Can I ask you if you are ready for the journey?"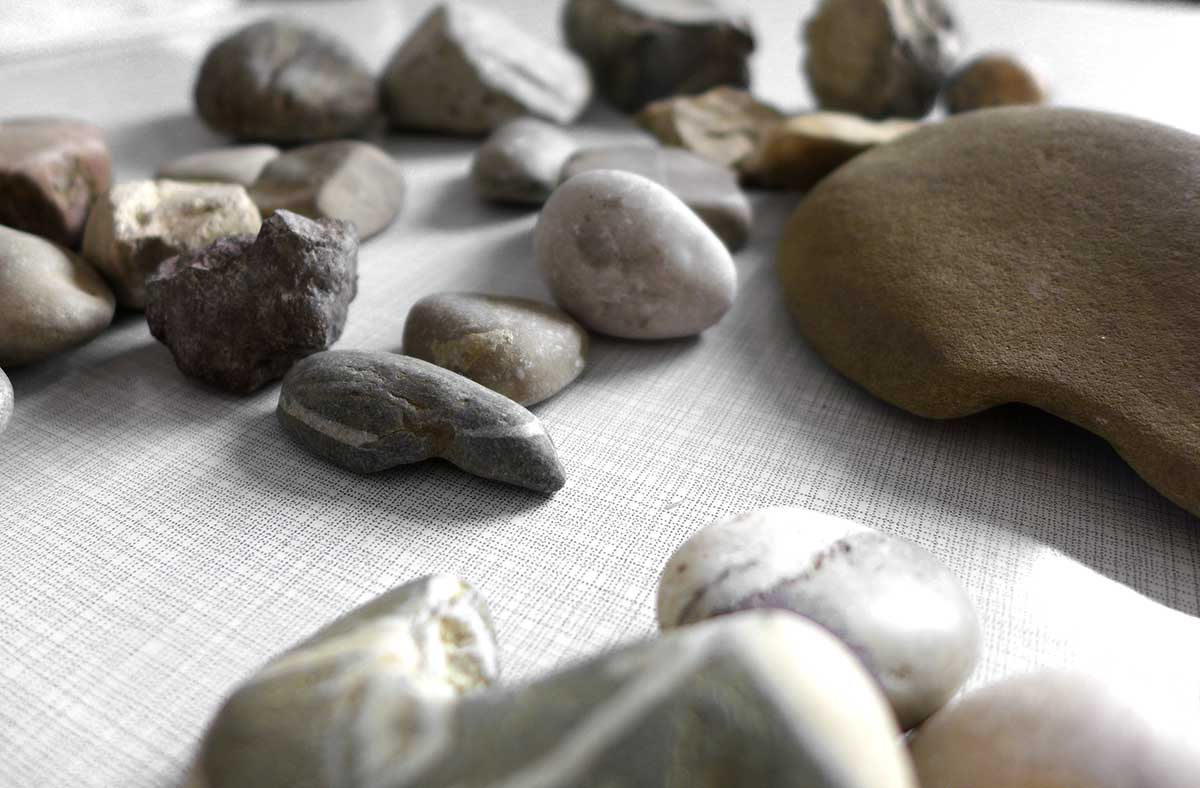 And I start to ask people around me how to ask a stone. My friend J. from B. laughs – "You do not need to ask, just take it with you". Relevant literature, in turn, reports that you definitely have to put a taken away stone back in its place, or at least care about if it feels good in the new place.
What now?
How do you do a stone survey?
I am looking forward to pragmatic, intuitive, scientific, philosophical, happy and serious, verifiable or even unique hints, experiences, references etc
Please send an e-mail to mail@seedbank.world
I will look at everything and try to learn and figure out what we can use for the project.