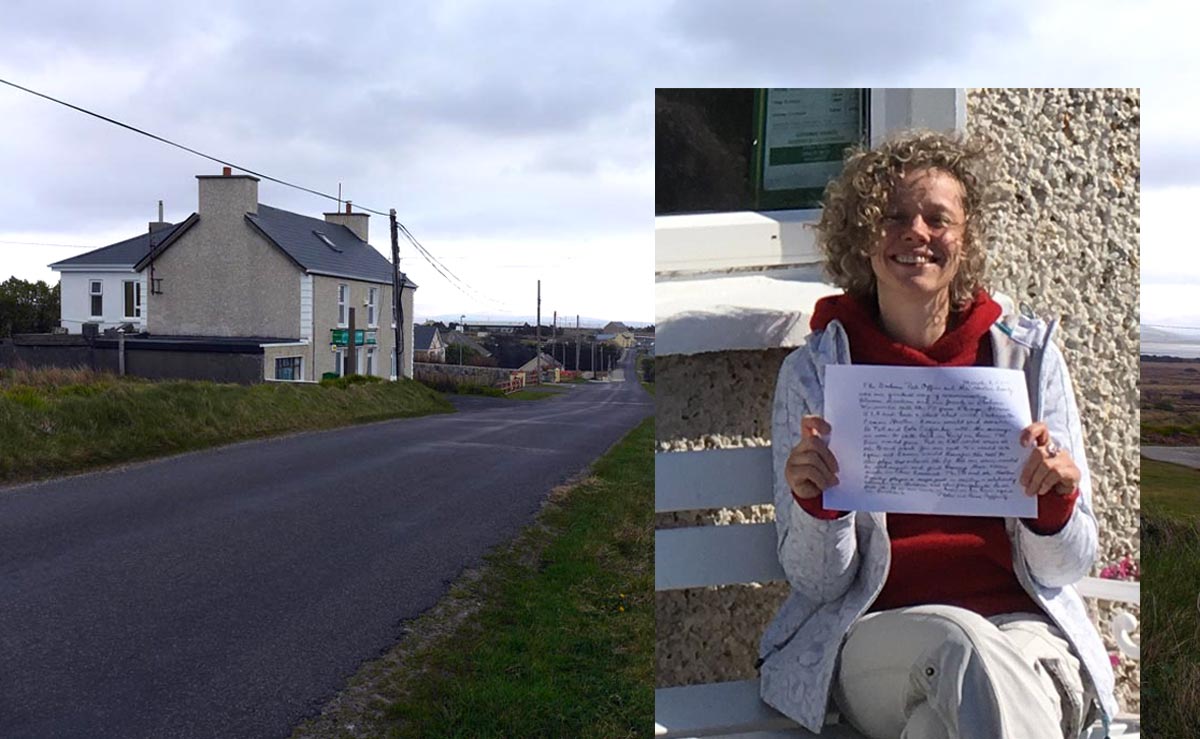 In May 2017, Kerstin Burlage, journalist for Radio Bremen, visited the "Seedbank of Love & Stories". She talked to Ann and Doris and swapped a story – and then she made a contribution for Radio Bremen for the production "Rituals" (2nd July 2017, 11:05 am on "Nordwestradio", now Bremen 2).
We thank Radio Bremen for their permission to publish this contribution on our website (it's in german) – below you can read the english translation.
Whoever comes to Doohoma via country roads will drive for a long time through nothingness: greeny-brown boglands, gentle rolling hills, here and there bushes duck away from the gusts of wind that are always there. Even if it is not always visible, you can feel the closeness of the sea. If I had come to Doohoma a hundred years ago it would not have been on a road, as there were none at the time. Like many places in this area, the little village on the furthest tip of the peninsula, Doohoma Head was populated from the sea. Back then there was a lively trade by boat – with whale meat, fish and turf. Today there remain a few dozen houses, a catholic Church and two pubs…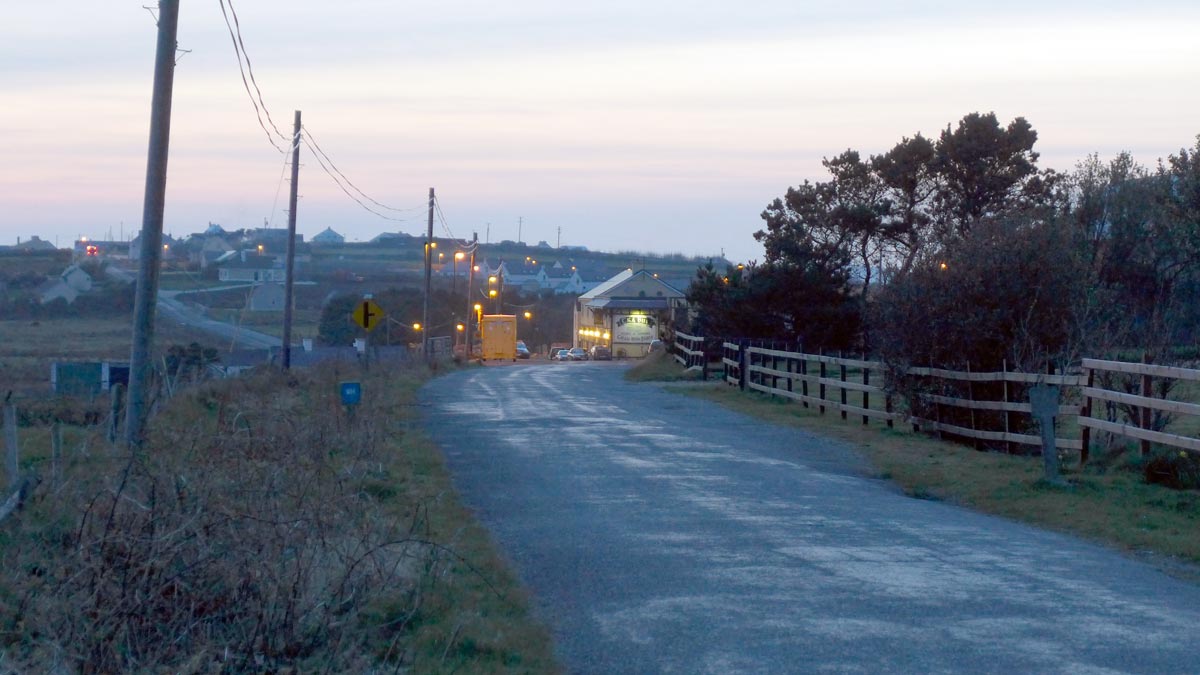 ..and a yellow-grey building with a green sign above the door that says, "An Post".
Inside a few old shelves, because this used to be a little grocery store – a freezer with ice-cream and a post office counter. Here the villagers buy their stamps and pick up their pension. And here I meet Doris Affeldt. Doris is from near Hamburg. She emigrated to Doohoma over 30 years ago. She runs a small textile manufacturing business. Apart from that she is a painter, – she is assisting the Munich artist, Anja Uhlig with the international interactive art project in this post office, "The Seedbank of Love & Stories".
Doris: She practically discovered this place as a very magical and special place because the entire village meets here – this here is a type of hub. They are not all here simultaneously – but the stories of the people come together here.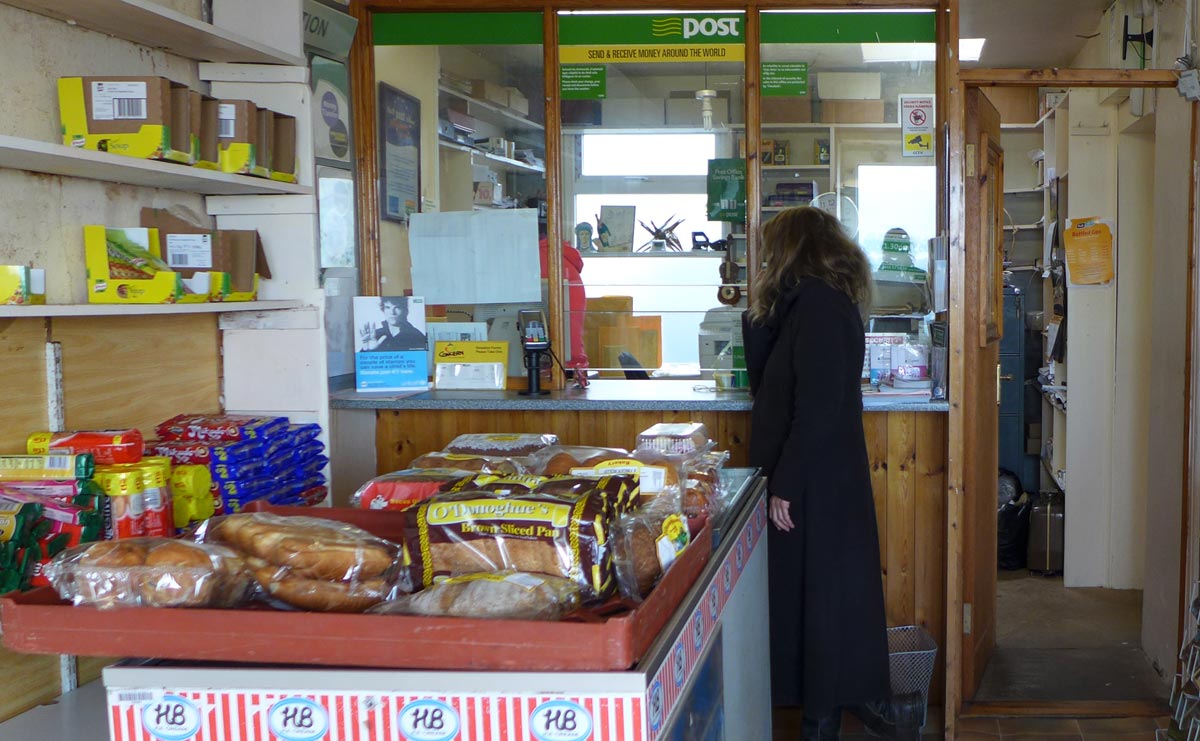 Stories which just so happen in everyday life, which trigger laughter or an empathic look, which keep others up to date. This here is daily ritual, not just for the people living in village.
Doris: For every house you see here there are at least another dozen somewhere spread across the globe, who everybody know about, whose stories are also known by everybody and come together here.
Because like everywhere else in Ireland, many went from here to seek their fortune on the other side of the Atlantic, especially at the end of the 19th and the beginning of the 20th century. Up until today Ireland has been a country of emigration. And so the little post office in Doohoma was always a distributor of stories that arrived by post or telephone.

Doris: If you think about how many people are connected in their hearts with Doohoma: Shane and Jamie are in Australia, und such and such is in America and Valerie is in Chicago and we are quite global here. And everything comes together here in real life, not virtually.
This is exactly the point at which the artist Anja Uhlig links in with her art project – for this she is permitted to use some of the shelves here. She painted them white and pink and has filled them with 144 large screw top glass jars: real touchable ones. And this is how it originated, what is known as the "Seedbank of Love & Stories". For the opening in November 2015 she explained on the Irish radio station:
The "Seedbank of Love & Stories" is a place where stories may be swopped. Whoever comes in can chose a jar and put their story in and take out another unread story.
And Doris Affeldt says as we are standing in the Post Office:
Who knows what might become of this story one day? A whole theatre piece can be created or a novel. So these are also all seeds which will germinate sometime.
I too swop a story: I write down a little anecdote that I experienced the previous day. And in return I receive a story from somebody who emigrated from Doohoma to the United States a long time ago. He posted it here as a letter:
We would call the post office from Chicago, U.S.A. and have a short chat with Postmaster Eamon Heston. Eamon would send someone to Pat and Kate Cofferty with the message we were to call back in half an hour. The time would pass, Pat or Kate would arrive at the post office and wait for our call. We would call again and Eamon would transfer the call to the phone box outside the post office. All our news would be exchanged and just hearing their voices made me less homesick. The post office and the Heston family played a major part in creating a relationship between our children and their grandfather. As we pass the post office on our visits we know we are home again in Doohoma……
Alone the voices of his relatives eased his homesickness, he writes about this ritual. And I now know of a new story – a seed from the "Seedbank of Love & Stories" on the westerly point of Ireland.

Thank you, Kerstin, for your wonderful story!